(SAVANNAH, GA) The 8th Annual STATE OF SMALL BUSINESS IN CHATHAM COUNTY will be presented LIVE online, Tuesday, December 8, 2020. The event will go LIVE from 1:00 – 2:30 p.m. on SCORE SAVANNAH's Facebook page: https://www.facebook.com/SCORESavannah. This will be a landmark event as the benchmarks to be presented will go down in the history books due to the pandemic. The benchmarks will be given to the Georgia Historical Society for their Covid-19 gallery collection.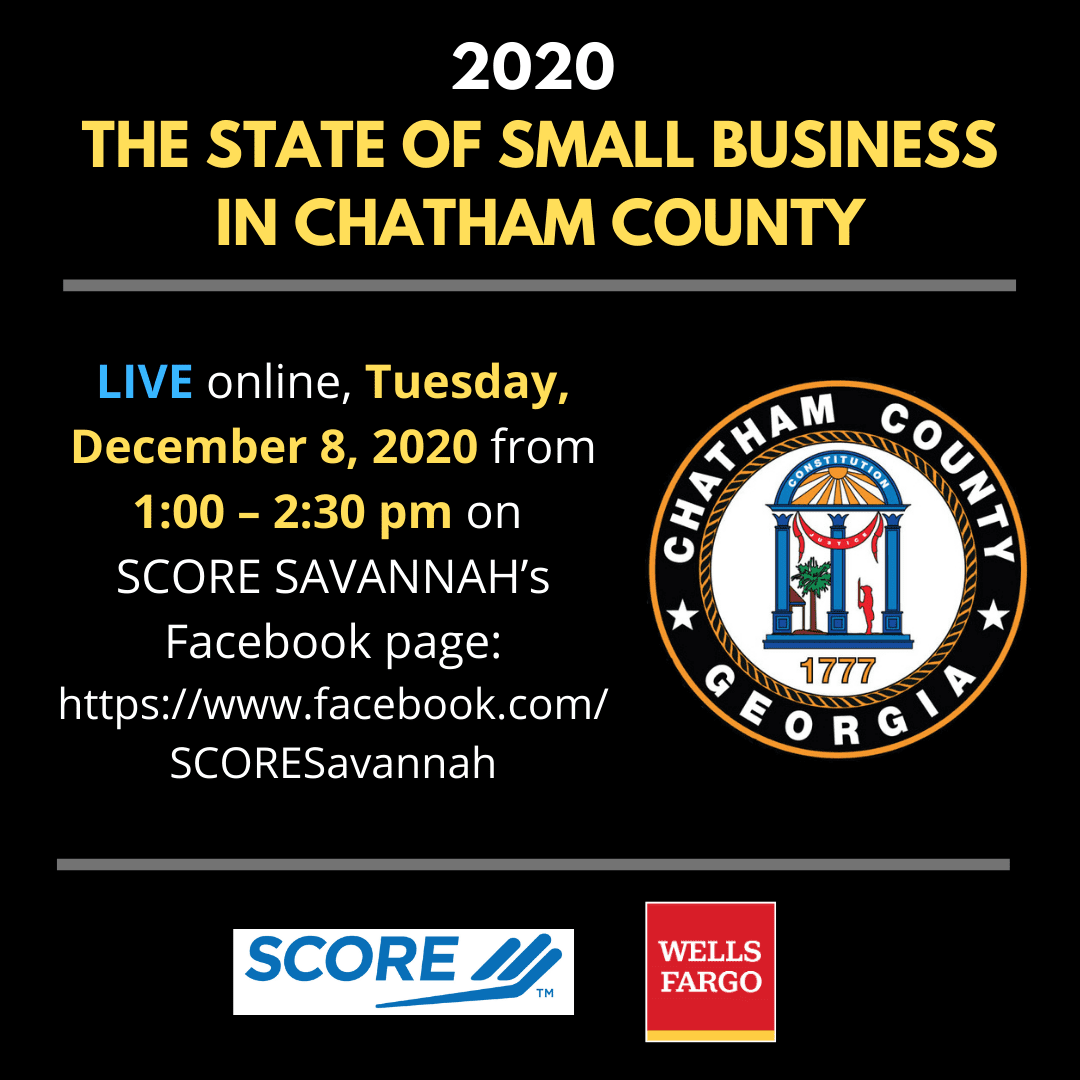 Nine area experts will present their information on Savannah's growth in the small business community over this past year. One representative from each industry will report on the current local statistics in Chatham County. Each speaker will have 2-3 minutes to present their information. The panel of speakers will then discuss the implications of the data presented and how it relates to the local Small Business Community. Audience questions are encouraged.
"It's important that our small business community gets information they need to help them in making business decisions for the coming year and beyond, especially in these uncertain times," said event co-founder Marjorie Young, president of Carriage Trade Public Relations. "Data provided during the forum hopefully will enhance that process."
The presenting sponsors are Wells Fargo and Savannah SCORE.
Supporting Sponsors include; The University of Georgia Small Business Development Center, The Entrepreneur Center, The City of Savannah, Savannah Area Chamber of Commerce, Buy Local Savannah, Savannah Women in Business, The Greater Savannah Black Chamber of Commerce, Savannah Jaycees, Metropolitan Savannah Hispanic Chamber of Commerce, Small Business Chamber of Savannah, Carriage Trade Public Relations® Inc., Joe Marchese Construction, Good Cause Marketing, Savannah Master Calendar, and Connect Savannah.
The 2020 State of Small Business in Chatham County presenters are:
SPEAKER: Michael Toma, Ph.D., Professor of economics at Georgia Southern University in Savannah
Topic: Small Business Employment Stats
SPEAKER: Michael Owens, CEO of Tourism Leadership Council
TOPIC: Tourism business
SPEAKER: Rhett Mouchet, Associate Broker, Colliers International Savannah
TOPIC: Commercial Real Estate Trends
SPEAKER: Mike Rose, Development Liaison Manager, City of Savannah
TOPIC: Local Growth in Construction
SPEAKER: Charles Bowen, Corporate / Entertainment Attorney at The Bowen Law Group
TOPIC: Film Industry in Savannah
SPEAKER: Lee Beckman, Ports Authority, Garden City terminal
TOPIC: How much freight was shipped to Savannah this year.
SPEAKER: Victoria Saxton, CFO of the Small Business Assistance Corporation
TOPIC: Small Business Access to Capital in the Savannah Region
SPEAKER: Keith Fletcher, KRF Associates
TOPIC: Tech
SPEAKER: David Maxwell, Senior Director of Finance, City of Savannah
TOPIC: Business Taxation in Savannah
The event will be moderated by Marjorie Young, Founder of Carriage Trade Public Relations® and Joe Marchese, Founder of Joe Marchese Commercial Construction.
ABOUT WELLS FARGO
Wells Fargo & Company (NYSE: WFC) is a diversified, community-based financial services company with $1.92 trillion in assets. Wells Fargo's vision is to satisfy our customers' financial needs and help them succeed financially. Founded in 1852 and headquartered in San Francisco, Wells Fargo provides banking, investment and mortgage products and services, as well as consumer and commercial finance, through 7,200 locations, more than 13,000 ATMs, the internet (wellsfargo.com) and mobile banking, and has offices in 31 countries and territories to support customers who conduct business in the global economy. Wells Fargo serves one in three households in the United States. Wells Fargo & Company was ranked No. 30 on Fortune's 2020 rankings of America's largest corporations. News, insights and perspectives from Wells Fargo are also available at Wells Fargo Stories. Additional information may be found at www.wellsfargo.com | Twitter: @WellsFargo..
ABOUT SCORE
SCORE, part of the Small Business Administration (SBA), is the largest provider of free small business mentoring services and educational business programs in the United States. Since its inception in 1964, SCORE has helped more than 10 million aspiring entrepreneurs and small business owners successfully start and grow their businesses. SCORE now has 320 chapters nationwide with over 11,000 volunteers donating over 2 million hours of their time each year. In 2016, Savannah SCORE helped start 135 new businesses and create 329 new non-owner jobs. Because of its contributions to Savannah's small business community, the chapter has been ranked in the top 30 SCORE chapters in the country and has been nominated as Chapter of the Year. If you are interested in speaking with a SCORE mentor about your business ideas or needs, or if you are interested in becoming a SCORE mentor, please call (912)-652-4335 or visit our website at www.savannah.score.org
MEDIA CONTACT
Marjorie Young
Carriage Trade Public Relations®, Inc.
marjorie@carriagetradepr.com
912.844.9990
www.carriagetradepr.com