Howls of the Sirens
November 10, 2022 @ 7:00 pm

-

10:00 pm
Experience an enthralling spectrum of rock wonderment with the best female-fronted rock bands in Savannah, GA.
Experience some of the best female-fronted rock bands in Savannah at Victory North's Howls of the Sirens, an enthralling spectrum of rock wonderment! Come hear the raw, punk energy of The Maxines; the dreamy, haunting shoegaze of Fauvely; the punchy and tight Draucker ensemble; and the heavy rock vibes of Ember City! Don't miss this epic night of local talent.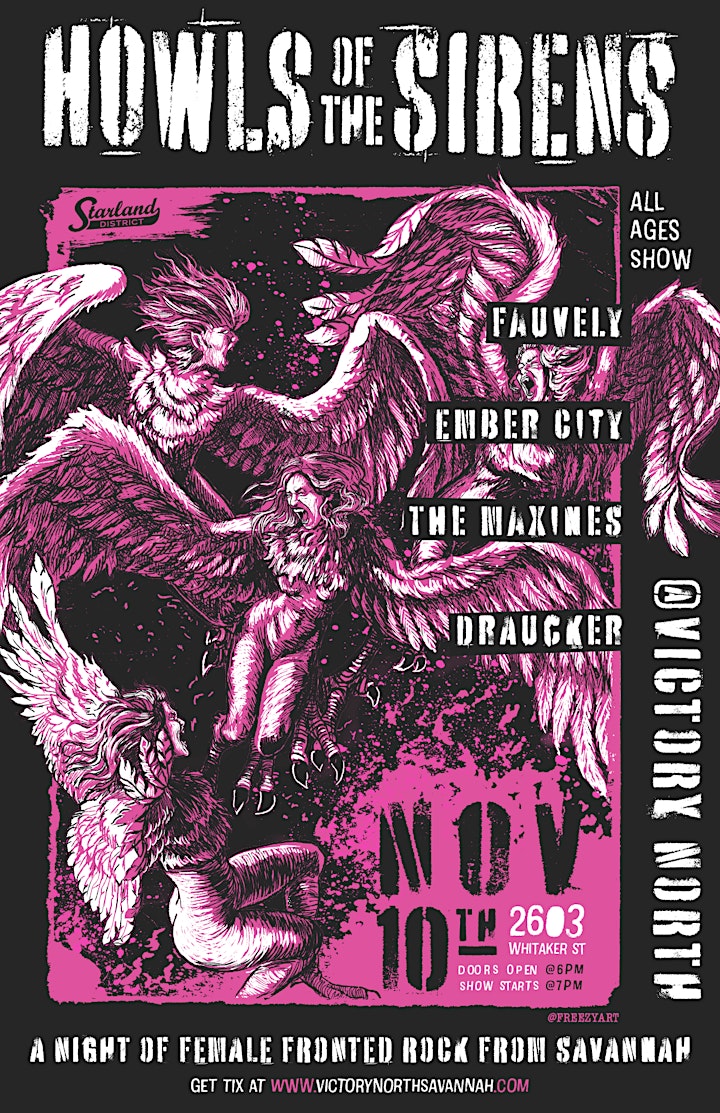 Fauvely
Fauvely (faux-vlee) is the deeply personal dream-folk project led by Sophie Brochu. Inspired by the dark, the wild, love and loss, Brochu crafts songs in which she offers her most intimate thoughts, veiled by delicate swells and lush reverb. The Georgia-native didn't start writing her own songs until she was in grad school, studying fiction and playing in the Chicago shoegaze group, Astrobrite. Founding member Scott Cortez encouraged her to record some bedroom-style demos, which would later become the EP, Watch Me Overcomplicate This. Fauvely began performing around bars and venues in Chicago with a changing line-up of backing musicians and collaborators.
Over the years, Fauvely has cultivated a respected following, landing support slots for internationally-acclaimed acts like Hand Habits, Stella Donnelly, Beach Bunny, and Say Sue Me. Fauvely's quietly-released LP, Beautiful Places (April 2021) was called "an astonishing album of brilliant maturity, writing, and arrangements" by Rolling Stone France. Now based in Savannah, Georgia, Fauvely continues to evolve with a driving, yet dreamy sound, honest lyricism, and self-effacing charm.
Website: fauvelymusic.com
IG: @fauvelyyy
Twitter: twitter.com/fauvelyyy
Bandcamp: fauvely.bandcamp.com
Spotify:  Fauvely
Youtube:  Fauvely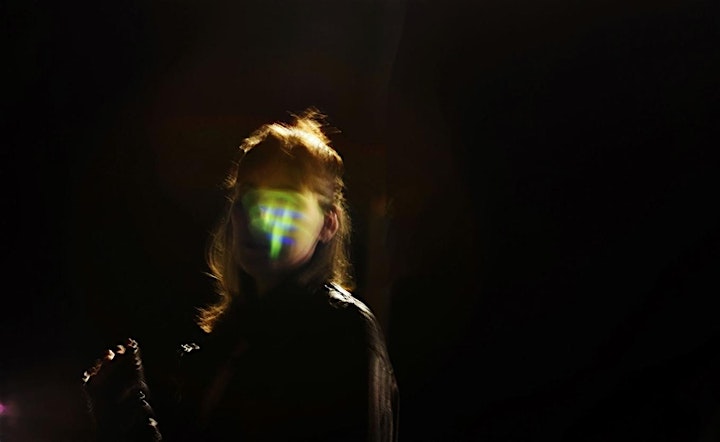 Ember City
Established in 2016, Ember City is a three-piece rock band steeped in '90s grunge flavor and modern alt-rock sensibilities. The band's primary members are Sarah Poole on bass/vocals and Ryan Taito on guitar/vocals. Ember City is known for fuzzed-out guitar riffs, chuggy bass, and sweeping drums. The band's sound contrasts the sultry with the harder edges of rock. Their debut album, Invisible Ruler, was released in March of 2017 and included their first single, Blackout. Ember City is currently recording and will be debuting new music in the Fall 2022.
FB: @EMBERCITY
IG: @EMBERCITYMUSIC
The Maxines
Band bio:  The Maxines started in 2021 when AJ Grey (vocals) decided to reach out to Veronica Garcia-Melendez (bassist) about starting an all female rock band after coming home to Savannah from a metamorphic trip out west.  They were then introduced to Coco and Maddie Oke (drums and guitar), two twins from Canada who moved to Savannah in 2019.  They started out playing 90s rock covers, then progressed into writing their own music.  Their sound is a mix of grunge and progressive metal with experimental sections and ethereal, angsty lyrics.
IG: @themaxinesband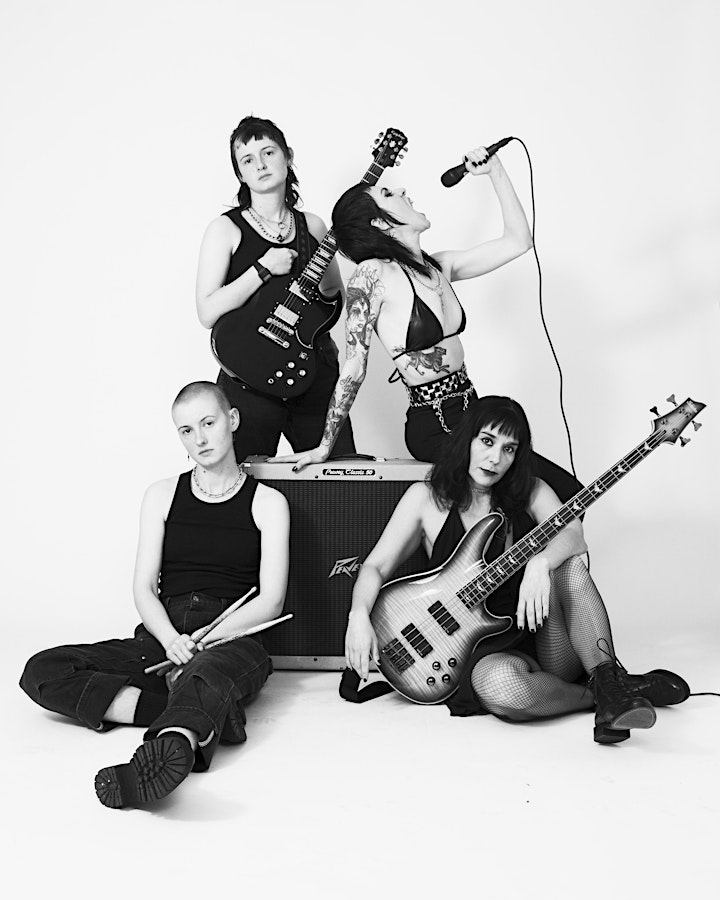 DRAUCKER
The band DRAUCKER began as siblings, Nick (guitars), Sarah (lead vocals) and Chris Draucker (guitars), grew up in a musical household. With deep rock roots and vast performance experience, the three now break barriers and delve into many different genres, leaving their fans speechless.
DRAUCKER added drummer Tyler Weibel, and bassist Joe Pilz, into the mix about five years ago. DRAUCKER has ambitious dreams for the future of rock music. Although their hefty local and regional shows keep the band busy, they continue to write and produce songs that promote positivity and empowerment.
DRAUCKER has opened for some amazing acts like Great White, Drivin' and Cryin', and Lez Zeppelin among others. Earlier this year, they were selected as the opening act for Bon Jovi, and host a pre-show & after party for the Eagles tour at the Enmarket Arena in Savannah, Georgia. Armed with an eclectic, hand-picked list of number one covers and a hard-hitting repertoire of original songs, DRAUCKER is quickly becoming one of the south's most sought after bands.
Website: www.thebanddraucker.com
FB: @thebanddraucker
IG: @thebanddraucker
SPOTIFY: DRAUCKER
YOUTUBE: Cut it Out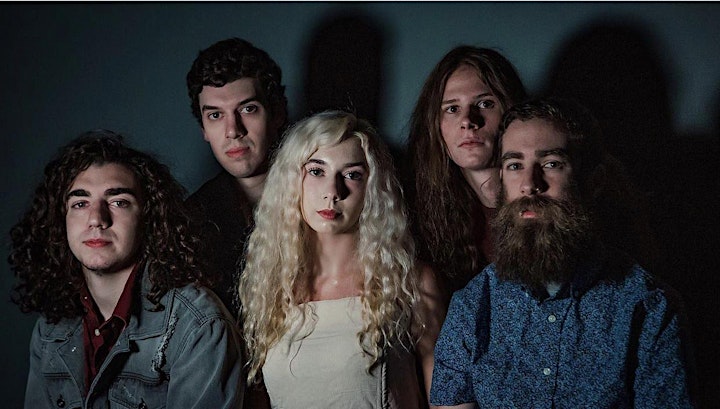 Related Events