Great Peacock and Cordovas
May 21, 2021 @ 8:00 pm

-

11:00 pm
An Evening of American Folk Rock with Great Peacock & Cordovas. This is a reduced capacity, socially distanced event. Tickets are limited.
GREAT PEACOCK
Spitting stories of love, loss and pain, Nashville's Great Peacock⎯⎯ comprised of lead singer and guitarist Andrew Nelson, guitarist Blount Floyd, drummer Nick Recio and bass player Frank Keith IV ⎯⎯ challenge the very notion of genre, dismantling tradition and blurring the lines between rock 'n roll, conventional folk music and true Americana. Having earned praise from Paste, the Nashville Scene, American Songwriter, No Depression, Relix and PopMatters, the band ignites a kind of unapologetic spark. As fixtures on the Southern festival circuit including Shakey Knees, they've shared stages with an abundance of equally-minded noise-makers, including Susto, Hurray for the Riff Raff, Cage the Elephant, American Aquarium, Margo Price and Jonathan Tyler.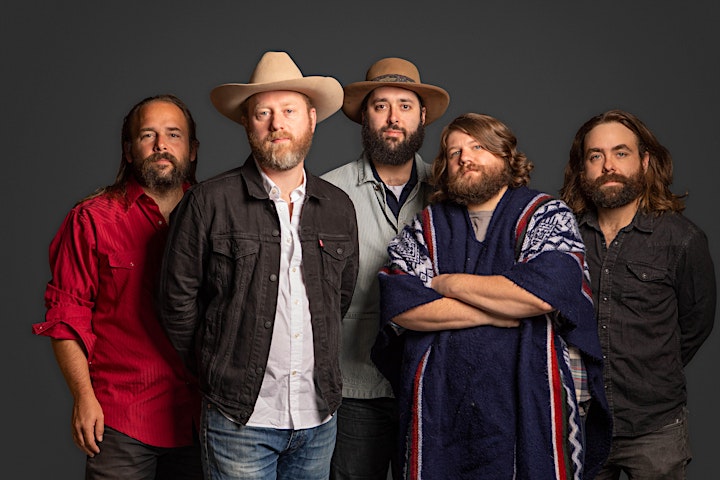 CORDOVAS
The latest full-length from Cordovas, Destiny Hotel is a work of wild poetry and wide-eyed abandon, set to a glorious collision of folk and country and groove-heavy rock-and-roll. In a major creative milestone for the Tennessee-based band—vocalist/multi-instrumentalist Joe Firstman, keyboardist Sevans Henderson, guitarist/vocalist Lucca Soria and vocalist/multi-instrumentalist Toby Weaver—the album harnesses the freewheeling energy of their live show more fully than ever, all while lifting their songwriting to a whole new level of sophistication. The result is a batch of songs that ruminate and rhapsodize with equal intensity, inviting endless celebration on the way to transcendence.
"We wanted to strike the term 'want' from our music—to get rid of all the 'Baby, baby, baby, I want this, I want that,' and create something more useful," says Firstman. "We needed to make sure these were songs we'd be proud to sing forever."
Related Events